While singles remains more popular, doubles is the game the vast majority of recreational players play. Unlike the men's tour, where most of the top doubles teams feature doubles specialists, players who only play doubles, many of the WTA's Top 10 doubles teams are also known for their singles play, including Ashleigh Barty, who's World No. 1 in singles and No. 12 in doubles, and Aryna Sabalenka, World No. 6 in doubles and defending Wuhan Open singles champion.
Doubles fans are in for a treat at this year's Wuhan Open, with three of the year's Grand Slam winning teams in the draw, all pulling double duty in doubles as well as singles.
The Wimbledon champions, Su-wei Hsieh and Barbora Strycova are seeded No. 1 here in Wuhan while US Open winners Elise Mertens and Aryna Sabalenka, are seeded No. 2.
The partnership of Australian Samantha Stosur and China's Shuai Zhang started off the year strong, taking the Australian Open title, reaching the final in Miami, and the quarterfinals at Roland Garros, Rome, and Madrid. Separately, the two have also enjoyed recent success, with Stosur reviving her singles' game to the finals of Guangzhou last week, and Zhang partnering with Shuai Peng to the finals of Nanchang earlier this month.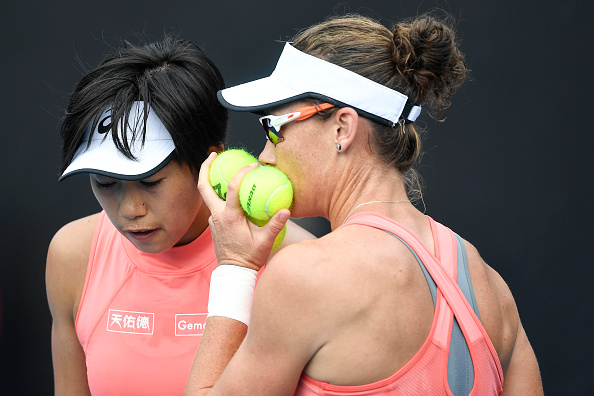 Also in the draw is defending champion Demi Schuurs (last year with Elise Mertens), this year partnering Anna-Lena Groenefeld, seeded fourth.
Oftentimes, success on the doubles' court translates to success in singles. "I just feel a little confidence after we won it. It just help little bit feel free on the court," said Sabalenka, who recently won the US Open Women's Doubles Championship.
Playing doubles also allows players extra time on court, in real match situations. "It's tough to come back after a period that I didn't have official matches. But today was good that I started doubles," said Simona Halep who hadn't played since losing in the second round at the US Open. "I'm trying to have more matches. That's why I'm playing doubles, as well," she said after winning her opening match with countrywoman Ratuca Olaru.
Doubles also gives players a chance to work on specific parts of their game, like returns and volleys, which are even more crucial in doubles. "There are also times where doubles is just as important for… working on some specifics, getting some match play. A lot of the singles girls use it to get extra matches try to clean up their game a little bit," said Ashleigh Barty, winner of 10 doubles titles, including last year's US Open.
Hometown fans will have plenty of players to cheer for with 9 Chinese players in the doubles' draw. World No. 8 Yifan Xu leads the charge with partner Gabriela Dabrowski. The Chinese-Canadian pairing are seeded third, coming off a Wimbledon runner-up finish. Also in the draw is French Open runner-up Yingying Duan (with Saisai Zheng) this week partnering Veronika Kudermetova (seeded eighth); and the unseeded team of Shuai Peng and Yafan Wang who are both in red-hot doubles' form, Peng having reached the final in Nanchang and winning last week in Guangzhou, and Wang reaching the semifinals in singles and doubles last week at the Korean Open.
Click here for the full Ladies' Doubles Main Draw.