Aryna Sabalenka added to her perfect 11-0 Wuhan Open record when she stormed into her second consecutive final with a 7-5, 6-4 win over Ashleigh Barty on Friday.
The day started out with several lucky fans getting to play doubles with Wuhan Open Global Ambassador Li Na, but after the hit-and-giggles, it was down to business between World No. 1 Barty and defending Wuhan Open champion Sabalenka. The two had split their previous four meetings, with Sabalenka victorious twice in last year's China Swing, and Barty returning the favor in a Fed Cup match earlier this year.
From the very first game, Sabalenka announced her intentions – to attack and press at every opportunity. Aided by a Barty double fault and several defensive errors trying to handle the Belarusian's pace, Barty was broken straight away.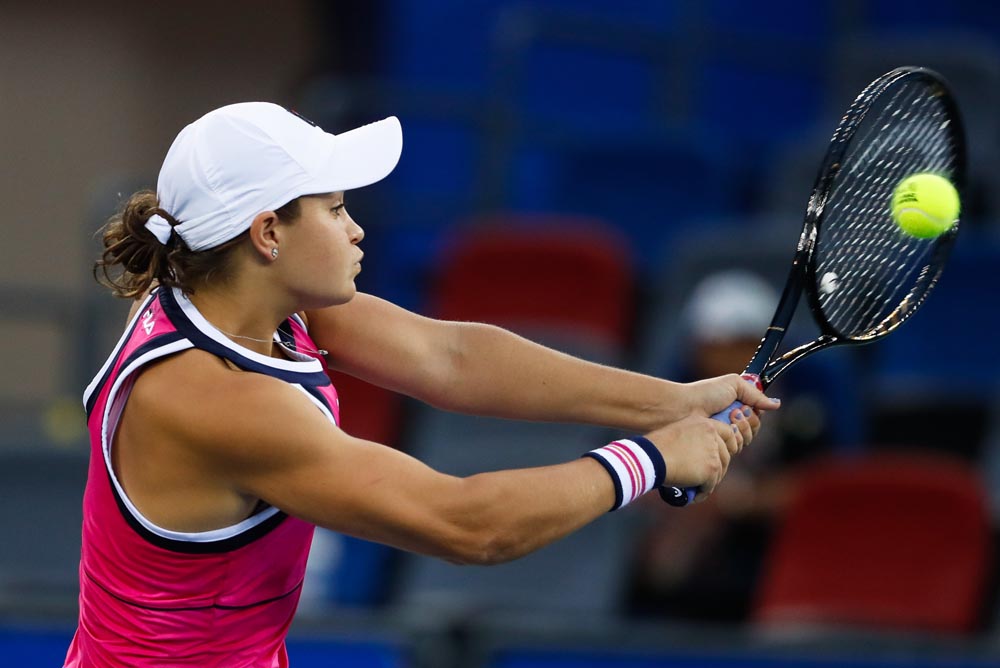 The rest of the set would be an absorbing contrast of styles pitting Sabalenka's superior power against Barty's superior movement. When the World No. 14 is on, she's almost unplayable, balancing unbridled power from both wings with the ability to move forward. For a baseliner, Sabalenka is surprisingly adept at net, having recently won the US Open Women's Doubles crown, and also through to the doubles semifinals here in Wuhan. Those skills were on full display as the 21-year-old finished points off at net or at times sliced wicked returns short.
Unable to overpower her opponent, Barty's strategy seemed to be to stay close to Sabalenka in games while waiting for her chances. "I think it's important to try to nullify that [power] as best as you can," said Barty about her strategy. "I felt like there were periods in the match today where I did that very well. There were periods where she's able to take control. You have to cop that on the chin."

Several opportunities came in the sixth game as Barty had to hit very close to the lines to engineer break points against the Sabalenka serve which was clocking in at 180-190kph. Barty managed to get the break back on her second attempt, when Sabalenka stopped play to challenge a Barty forehand which was shown to have caught a piece of the baseline to level the set at 3-all.
"I felt like she started play really well, like she's getting back on it," said Sabalenka after the match. "I just tried to stay there, tried to put as much balls as I can, just try to save this game. Otherwise, it's 3-5, then for sure she'll take it. That's why she No. 1."
With Barty serving at 5-5, 15-30, Sabalenka let out a tortured shriek at missing a second serve return. However, she got the deciding break when Barty sent a backhand slice wide a few points later.
The twelfth game of the match featured everything as Sabalenka served for the first set. There were lunge forehand squash shots by both players to stay in the point, a sizzling forehand passing shot by Barty, an overhead smash winner by Sabalenka, and a Sabalenka double fault at set point. After an enthralling tug-of-war contest, a Barty return error off a deep Sabalenka second serve finally gave the Belarusian the set.


In the second, Barty seemed to change tack, giving some air to her strokes in hopes of extending points and inducing errors rather than going toe-to-toe with Sabalenka. The strategy kept her in the set, with both players holding serve through the first eight games. However, one of Barty's greatest strengths is her movement, and the World No. 1 had to call for the trainer twice in the set to work on what looked to be strained lower left leg. Perhaps compromised physically, the Australian threw in four unforced errors in a row to drop serve at 4-all. "I was redlining a little bit, risking, having to play a risky brand of tennis, which I usually don't do too much of. It took its toll," said Barty after the match.
Serving for a spot in her third final of the year, Sabalenka did not falter. On match point, Barty coiled a backhand short in the court, heading towards the advertising boards, but Sabalenka chased it down and struck a clean backhand down-the-line winner to keep her perfect Wuhan Open record intact.
In Saturday's final, she'll face the winner between Petra Kvitova and Alison Riske. "Both of them are great fighters. It's going to be really tough. Doesn't matter who is going to be there. I'll be there for fight," proclaimed Sabalenka.
(Photo:Wuhan Open Official photo library — Vision China)