The "Summer of Sabalenka" might just have to be renamed "The Summer and Fall of Sabalenka" as the 20-year-old Belarusian defeated Anett Kontaveit for the 2018 Wuhan Open title, 6-3, 6-3. Her biggest trophy to date goes along with her maiden title in New Haven just before this year's US Open. The new world No. 16 has had a breakthrough four months, winning 25 of her last 32 matches.
With Sabalenka's first-strike style of tennis, it was always going to be Kontaveit under pressure. That proved true early, as the Estonian faced break points serving at 1-2, brought on by a flubbed overhead and a double fault. Sabalenka showed good variety, following up one of her signature monster groundstrokes with a deft drop shot on her way to a 4-1 lead.
"You've got to hope she's going to miss more than she makes," was part of the honest advice Kontaveit's coach Nigel Sears had for her during the changeover. Though more errors did creep into Sabalenka's game, including spectacularly missing a swing volley with Kontaveit completely off court, Sabalenka remained steady enough to serve out the first set, 6-3.
The second set followed much the same pattern, with Sabalenka easily holding her own service games to apply pressure to Kontaveit's. The break came later this time, and with Sabalenka serving for the match, she unleashed a final forehand down the line, her 25th winner, to claim the 2018 Wuhan Open trophy.
"I'm so happy to get this trophy. Last time it was just like a plate. I always wanted to have something special. This looks really cool. I'm so happy that I get this title," Sabalenka said after the match.
Sabalenka also credited a new partnership with coach Dmitry Tursunov as a contributing factor to her breakthrough. "I just start to be more calm on the court, don't try to go aggressive with every shot, try to found a way. If I cannot put the ball in, I try to found a way how I can find the way how to put it in finally. Well, I start thinking more on the court. Before, I was just, like, hit the ball as hard as I can, it's enough. From this summer when I start working with Dmitry, I start to think on the court. I think this is his job. Like 50% is his job, for sure."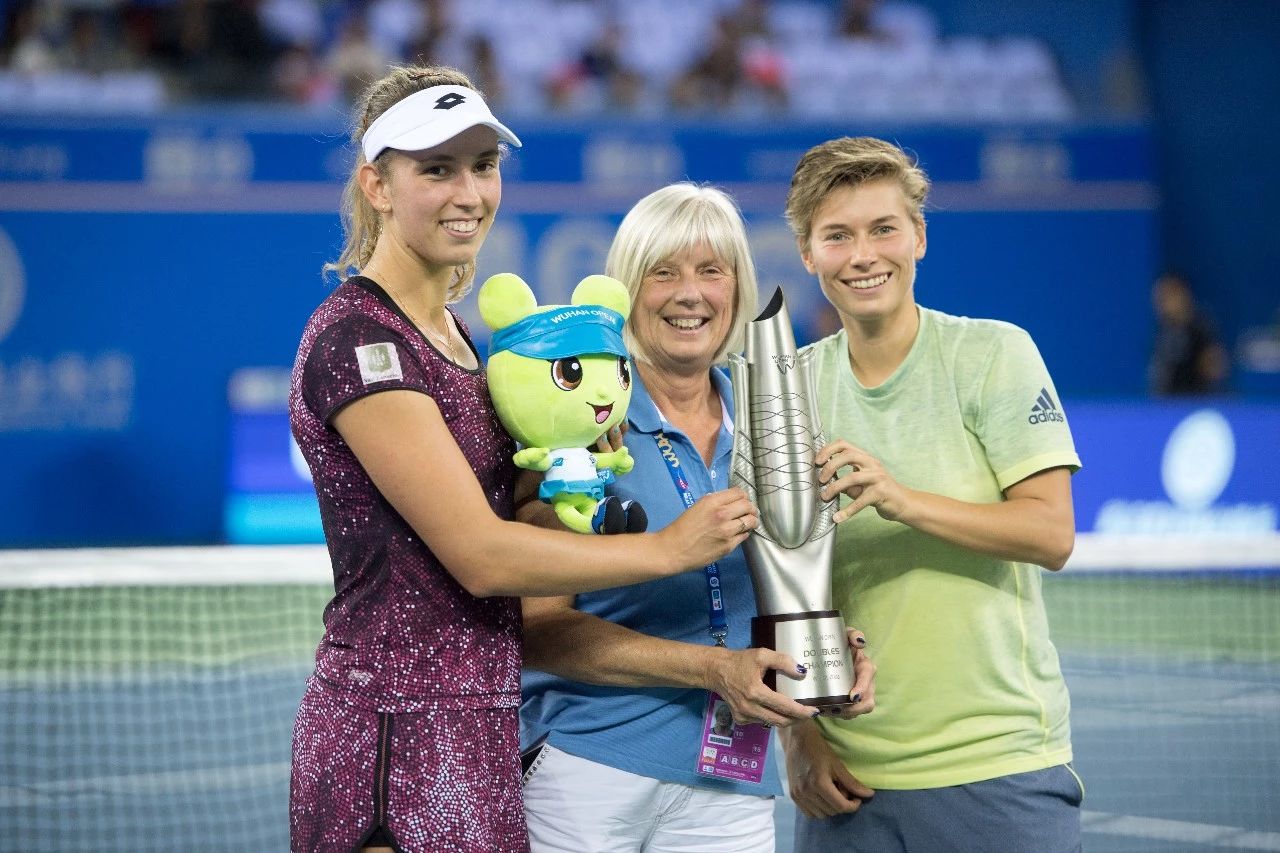 In the doubles' final, No. 6 seeds Elise Mertens and Demi Schuurs defeated No. 2 seeds Andrea Sestini Hlavackova and Barbora Strycova, 6-3, 6-3.
Sestini Hlavackova / Strycova have only regularly played together since May of this year, but in that stretch, have a tournament win in New Haven, two runner-up finishes, and a semifinal showing at the French Open.
Mertens / Schuurs is the more established team, having played together since the middle of 2017, winning three titles with three more runner-up appearances.
There was a lot on the line on Saturday, with both teams looking for their biggest title to date. Sestini Hlavackova / Strycova had already clinched a spot in their maiden BNP Paribas WTA Finals Singapore next month, and Mertens / Schuurs were looking to do the same with a title win in Wuhan.
Mertens / Schuurs won the toss and made the unusual decision to receive. It turned out to be a good one, as they broke the Strycova serve off the bat. The No. 6 seeds continued to be aggressive with their returns and aided by some athletic saves by Schuurs, also broke the Sestini Hlavackova serve to love to open up a 3-0 lead. In Schuurs' first service game, the No. 2 seeds managed to reclaim one of the breaks, often pinning the Dutchwoman to the back of the court where she's least effective. Schuurs is most comfortable at net, where she made numerous reflex volleys throughout the first set to save points her team had no business winning, getting back smashes and hard-hit groundstrokes from close proximity. It was Mertens, however, who was able to deflect what looked to be a sure volley put-away by Sestini Hlavackova back into the open court on set point, giving the Belgian / Dutch pair the first set.
While the second seeds steadied their game in the second and made fewer mistakes, they still faced break points almost every time they stepped up to the service line. Mertens / Schuurs finally made good to take a 4-2 lead. A few games later, a Mertens smash earned the No. 6 seeds their first Wuhan Open title.