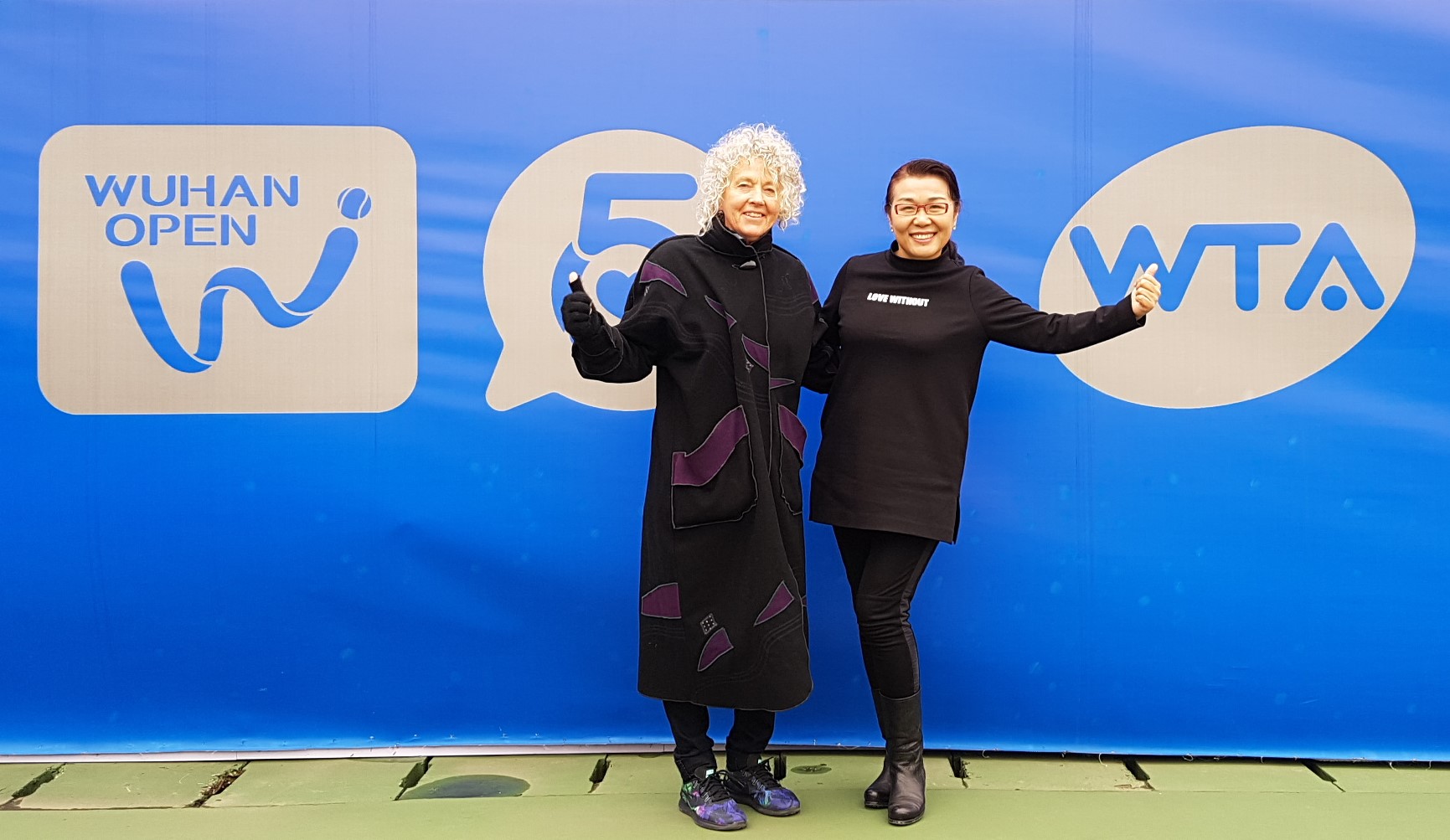 Wuhan Open is marking International Women's Day 2019 by becoming the most prestigious professional tennis tournament to have two female Tournament Directors. Both women are set to become the first females appointed to run a WTA Premier 5 event.
Experienced tennis professional Brenda Perry will join Li Qiuping as Co-Directors of the $US 2,828,000 WTA Premier 5 tournament, held in the central Chinese city of Wuhan in September each year.
New Zealander Perry was previously Tournament Director of the WTA Tour event in Auckland and has worked on the Wuhan tournament operations since before its inaugural event in 2014. She has also held various roles within WTA including WTA Supervisor, WTA Director of On-Site Operations and a WTA Board Player Representative. Perry is also a former New Zealand No. 1 tennis professional, as well as an international consultant for Octagon.
Wuhan-born Qiuping Li is General Manager of WSDI and has been a driving force at other major sporting events and infrastructure projects in Wuhan in particular Optics Valley, home to Wuhan Open and one of the leading developing technological centres in China.
Wuhan Open will be the highest-level tournament with female Tournament Directors, joining the WTA Premier Mandatory BNP Paribas Open Assistant Tournament Director Peggy Michel as the three most senior women running WTA Tour events.
Wuhan Open co-Tournament Director Li Qiuping said:
"I'm very excited to be working with Brenda as we lead our strong global team in Wuhan. We're especially proud that we have a big female workforce in Wuhan, including a number of women in senior management roles within the local and international teams and throughout the organization. We also have a high proportion of female volunteers."
"The city of Wuhan has featured many amazing women in its history and we believe that our tournament is part of their legacy. For example, historical Wuhan heroine Hua Mulan, a symbol of strength, courage and vision, was an inspirational female leader with a spirit that Brenda and I aspire to emulate."
Wuhan Open co-Tournament Director Brenda Perry said:
"The tournament has enjoyed a hugely successful first five years and now we have a wonderful opportunity to build on that success. I really look forward to working with Li Qiuping and the rest of our great team in Wuhan to keep driving the Wuhan Open forward, ensuring that it continues to be one of the best tennis events in the world."
"Both of us are inspired and energised to create the best showcase possible for some of the world's best female athletes."
WTA Tour Chief Executive and Chairman Steve Simon commented:
"I am incredibly pleased to welcome Brenda Perry as Wuhan Open's Co-Tournament Director. As strong supporters of women's professional tennis, Brenda and Li Qiuping are sure to be an outstanding team, and we're especially proud to see the Dongfeng Motor Wuhan Open appointing talented women in leadership opportunities throughout all areas of the event. We look forward to their success and what is sure to be another outstanding event for the fans of Wuhan."
The 2019 Wuhan Open takes place 22nd - 28th September 2019 at the Optics Valley International Tennis Center, Wuhan. For more information and to buy tickets visit: www.wuhanopen.org and www.4008702014.com.